Recent legal developments. A supplement to the
law pages
of Bournemouth and Poole College.
Monday 26 September 2011 at 7:33 am | In
News
|
Post Comment
"Open justice is one of the oldest principles of English law, going back to before Magna Carta." — Justice Tugendhat, Terry v Person Unknown [2010] EWHC 119 (QB).

Judgments to become more accessible
Finding reported cases is all but impossible for the lay person, so a group of enthusiasts has started "Judgmental" which went live on Friday to correct the balance.
"Judgmental" has started indexing all case law in one place, but most importantly it will be fully searchable.  BAILLI will continue but it is not fully indexed or searchable.
The legal aid, sentencing and punishment of offenders bill – when passed – will restrict the free access to lawyers the Judgmental site will go some way to providing free legal information.
Sunday 18 September 2011 at 7:39 am | In
News
|
1 Comment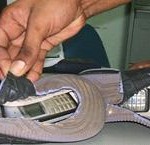 Phone smuggled in shoe
Prisoners could soon have telephones installed in their cells, allowing them to make calls from their beds.
Officials are searching for a suitable jail to pilot the scheme and HMP Isis, a young offenders' institution in South East London, is believed to be the most likely choice. The prison can hold 252 inmates in single and double cells, and each cell would have a landline phone installed.
The move is intended to stamp out the illegal use of mobiles in prisons and the flourishing black market in smuggled phones. It will also end the scenes, made familiar by television dramas, of inmates queuing to use public phones on prison landings.
Read more
Powered by WordPress with Pool theme design by Borja Fernandez.
Entries and comments feeds. Valid XHTML and CSS. ^Top^