Recent legal developments.
Wednesday 20 April 2011 at 3:47 pm | In
News
|
Post Comment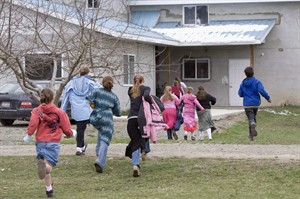 Bountiful commune in the Kootenays
In Canada a Vancouver court has been asked to rule on a principles that could change the country's future. The issue at stake is whether polygamy can be legally prohibited.
A fundamentalist sect that broke away from the Mormon church permits men to take several wives at its Bountiful commune in the Kootenays.  One of the commune's leaders is alleged to have 25 wives.
If the ban on polygamy is upheld, that means religious freedom is only a qualified right. However, if the ban is struck down, values such as gender equality and the rights of children take a back seat. Religious freedom would come first.
The court heard testimony that one of the Bountiful leaders took his 15-year-old daughter to the United States to be married, and brought back with him a bride of the same age.
And they note that in similar fundamentalist communes in the U.S., male children are driven away to prevent competition for wives. One witness testified that a boy of 15 and his brother were given $100 and a black bag with clothes, and told to leave. The arithmetic of polygamy is bound to cause problems.
Meanwhile in the UK….
With effect from 6 April 2011 separating couples are required to attend a mediation awareness session before taking their case to court unless there are allegations of domestic violence or child protection issues. Applicants for public funding are already required to do this.
The Pre-application protocol for mediation information and assessment (Family Procedure Rules 2010) is available here
No Comments yet »
RSS feed for comments on this post. TrackBack URI
Leave a comment
Powered by WordPress with Pool theme design by Borja Fernandez.
Entries and comments feeds. Valid XHTML and CSS. ^Top^