Recent legal developments.
Monday 22 August 2011 at 8:05 am | In
News
|
Post Comment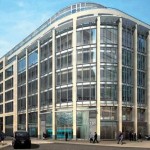 Rolls Building
The Rolls Building in Fetter Lane, London will house 31 courts, including three 'super-courts' designed to accommodate larger disputes. From October it is hoped that the Rolls Building will become the new home of the Chancery Division of the High Court, the Admiralty and Commercial Court, as well as the Technology and Construction Court.
The curvaceous, 11-storey Rolls Building in Fetter Lane is close to the Royal Courts of Justice in central London.
A £300m state-of-the-art law court complex will open in the next few weeks as the government tries to make the UK the world's pre-eminent destination for swiftly resolving international high-value legal disputes – and making a lot of money in the process.
Spending this amount of money just as the Ministry of Justice (MoJ) is closing around 140 magistrates and county courts around the country and preparing to slash the legal aid budget, is bound to anger some.
The Rolls Building courts will also be used for mediation and arbitration cases, both increasingly popular alternatives to the traditional confrontations involved in litigation.
The UK's legal sector is already a significant earner, generating £23.1bn in 2009 – equivalent to 1.8% of GDP. It contributed £3.2bn in exports, triple the level of a decade ago. Of commercial arbitration cases, 90% of those handled by London law firms involve an international party.
One comment on a legal website feared that electronic filing of cases would not be ready in time.
"The future might look bright to a rabbit staring into the lights of an oncoming car, but it may also get more stressful."
No Comments yet
Sorry, the comment form is closed at this time.
Powered by WordPress with Pool theme design by Borja Fernandez.
Entries and comments feeds. Valid XHTML and CSS. ^Top^