Recent legal developments.
Thursday 25 August 2011 at 6:18 am | In
News
|
Post Comment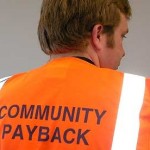 Community Payback - Community Service
Convicted offenders given community sentences will do a full week's work rather than stretch the sentence over a longer period.
Those without jobs will work a minimum of 28 hours over four days, with the fifth day spent looking for full-time work.
Previously, Community Payback programmes – known as community service – could be spread out over 12 months, with some offenders working just six hours a week.
Speaking on a visit to Croydon, south London, Crispen Blunt the prisons minister said the new measures would make for more intensive unpaid work and would help rehabilitate offenders.
"If you are unemployed and on Community Payback you shouldn't be sitting idle at home watching daytime television or hanging about with your mates on a street corner, you should be out paying back to your community through hard, honest work,"
Currently around 100,000 people are sentenced to Community Payback each year across England and Wales with more than 8.8 million hours of unpaid work completed last year, the Ministry of Justice said.
Crispin Blunt
"You can't use your phone, there's a lot of things you can't do on Community Payback.
Jobseeker's Allowance Current Rates (per week):
Aged 16-24 £53.45
Aged 25 or over £67.50
No Comments yet
Sorry, the comment form is closed at this time.
Powered by WordPress with Pool theme design by Borja Fernandez.
Entries and comments feeds. Valid XHTML and CSS. ^Top^