Recent legal developments.
Friday 28 October 2011 at 1:48 pm | In
News
|
Post Comment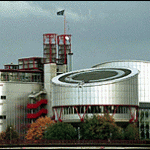 ECHR
Britain will take the chairmanship of the Council of Europe, the court's governing body, and ministers hope to use this to push through major reforms.
In a statement released through the council, the UK criticised the massive backlog of 155,000 cases before the ECHR and said that it would "ensure that national courts and authorities are able to assume their primary role in protecting human rights".
The UK's aim is to "strengthen subsidiarity" by introducing new measures to help ensure that the ECHR plays a subsidiary role where member states are fulfilling their obligations under the convention.
Mr Clarke the Justice Secretary, told the Home Affairs Committee that the European Court of Human Rights at Strasbourg should "have a proper regard for the way Parliament and the courts in independent states have addressed human rights issues themselves in the first place."  He said: "The biggest priority for the British Government as a whole is to try and get some reform…" There's a lot of support among other member states for reform and quite a lot of support in the court itself and in the Council of Europe."
Lord Phillips, the country's most senior judge has also contributed to the mood for change, by describing the court's rulings as sometimes too narrow in scope.
Issues often centre over privacy and immigration, both in the courts and with parliament. In particular article 8 of the European convention on human rights, which guarantees respect for private and family life has caused most concern.
Justices at the supreme court have difficulty translating the "very abstract" wording of the convention into practical legal effect.
Lord Judge told a House of Lords committee this month that there was an "arguable case" that the UK had to take account of decisions emanating from the court in Strasbourg but that "we are not bound by them".
Earlier this week, the Attorney General, Dominic Grieve, announced he would appear before the European court of human rights in Strasbourg in a case about prisoners' voting rights, to argue that English and Welsh courts should have "primary responsibility" in interpreting the convention.
No Comments yet
Sorry, the comment form is closed at this time.
Powered by WordPress with Pool theme design by Borja Fernandez.
Entries and comments feeds. Valid XHTML and CSS. ^Top^