Tuesday 14 August 2007 at 3:42 pm | In
Articles
|
5 Comments
One of my student's attention was drawn to the fact, that in cyclic groups of order 4 and 5, it is possible to arrange the elements so that the transverse diagonals (that is those perpendicular to the leading diagonal) of the group (Cayley) table consist of equal elements. The groups in question were

with multiplication modulo 5 and

with addition modulo 5. Thus you get the following diagonal patterns highlighted by the colours:

He asked 2 questions:
1. Can the elements of all (finite) cyclic groups be arranged to give these diagonal stripes?
If you take a finite cyclic group generated by the element

(we will use multiplication for the binary operation) then the natural ordering

will show this pattern: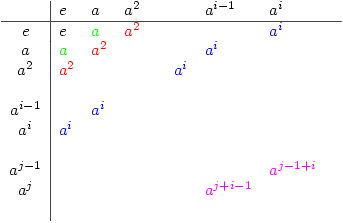 2. Are the cyclic groups the only ones that generate these patterns?
The answer is yes, but is not quite so obvious although not difficult to prove. Suppose a (finite) group G arranged as

exhibits the diagonal stripes. Use induction. Let

and suppose also that

for

. Then we get:



It follows that

so by induction assumption,

and hence

is the cyclic group generated by

.
5 Comments
Sorry, the comment form is closed at this time.
Powered by WordPress with Pool theme design by Borja Fernandez.
Entries and comments feeds. Valid XHTML and CSS. ^Top^